All of ARLP's foster dogs are, and will always be, near and dear to our hearts. But some -- due to their duration of stay in foster care, their particularly unique personalities, their resilience, or, as in Tally's case, a combination of all three -- leave a lasting impression on all they meet. We know that the many people who have followed Tally's journey over the last two years will be overjoyed to hear that Tally is home for good. Here, Tally's forever mama tells a story of what you want, what you get, and the unexpected bliss can result from a mismatch between the two.
Blog post by Ruth Patton.
It started with an email message from Jen L., ARLP's lead Rott n' Pit Ed trainer, in early January: "Hey Ruth, We just started another session of class and I was wondering if you would be interested in being a training buddy for Tally. Let me know what you think!"
The answer was yes, of course (more accurately, it was "Wheeeeeeeee! YES"), and Tally and I met for the first time on January 15. I picked her up at Chez Hotchkiss [home of ARLP volunteers Amy and Larry], and she was wearing a cute little pink collar and sweater set. I remember a lot of jumping and scrabbling and lunging and snorting...Tally was Distraction in Argyle. I got her into the car, got her to class, tried over and over to get her attention while she pulled and yodeled, and ran out of treats.
Ruth and Tally at Rott n' Pit Ed soon after they met. Photo by Lp Reyes
The next day, Amy emailed, "No pressure...but do you love her????? :)"
The truth? No. I mean, not in that way. Not in the 'adopt her' way. I grew up with dogs, and loved dogs, and knew I'd have one someday, which meant I'd thought about it a lot and had a fantasy dog in mind. Fantasy dog was male (so, not Tally), tall (strike two), laid back (three), and he'd run miles and miles with me (have you seen Tally's wonky wrist?). And on the limited occasions I was willing to admit the depth of my psychosis, fantasy dog would also convince the cats to love him, he'd get along with all other dogs, and he'd protect me from muggers. (I know. I'm not proud of it.)
Not that the ARLP chicks didn't try. "So-and-so was saying that Tally's totally your dog." SIGH. I thought Tally was cute and had fun at Rott n' Pit Ed with her and cried just a tiny bit when I dropped her off at home for the last time in early March, but she totally wasn't my dog.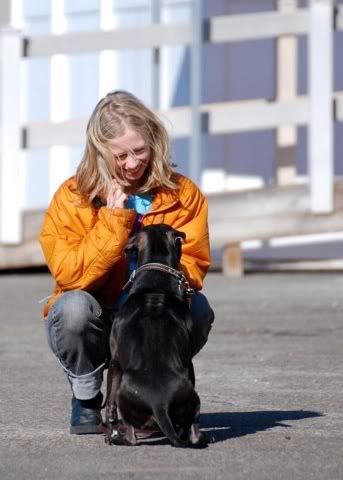 Ruth and Tally consider each other. Photo by Lp Reyes
Aaaaand then I couldn't stop thinking about her. I kept checking the list of available ARLPups to see if she was still there, and I'd make cheerful, promotional comments on her Facebook pics (e.g., "She'll make a GREAT companion!"). And I kept hoping she'd get adopted so I could let it go.
In the meantime, Cory and I decided to give fostering a try. It seemed like a great way to have a dog in our lives without having to make any kind of permanent commitment. For me, the cats were a serious concern. No so much Jasper, the lazy male with three settings – sleep, make biscuits, cry for dinner. It was Poppy I was worried about. She's seven pounds of fury. She's the one who runs to the door whenever someone comes over...not to greet them, but to assess if they're a threat that needs to be neutralized. She's faced off with two dogs at once totaling over twelve times her mass. She backed the neighbor Labrador into a corner of the kitchen and kept him there, hysterically yelping, until I managed to get a towel over her.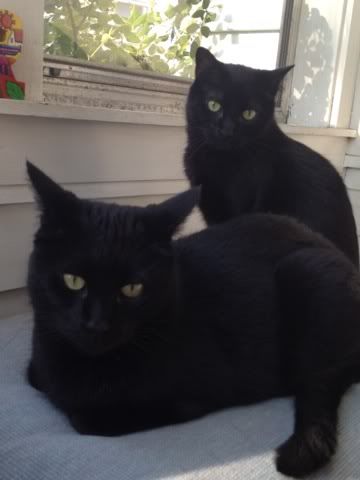 Jasper in front, Poppy in back. Photo courtesy of Ruth Patton
I was afraid that if a dog showed any interest in her, or chased her, or heaven forbid, tried to attack her, she would scratch their eyes out. So having a dog in the house could turn out to be ultimately unworkable for the long-term.
We submitted the foster application in early April and heard back from Amy, who wanted to come over to see the house and yard and make sure we weren't hoarders and were fit for fostering. I asked her to please bring Tally. We locked up the cats, the guests arrived, and Tally destroyed two toys, popped our kickball, and rolled in her own pee. I emailed a friend later, "DOGS ARE SO GREAT."
Smitten much?
Tally works her charm on Cory. Photo by Ruth Patton
Soon after, Amy asked if we'd like to dog-sit Tally while she and Larry were on vacation in early May. I let Cory decide because I felt biased. He agreed, I did a secret celebration, and it was decided. On April 30, Amy dropped her off with all of her doggie accessories, gave feeding instructions and some sage advice, and went home. So there we were, with Tally in the house, wondering how we were going to handle the next couple of weeks.
Photo courtesy of Ruth Patton
You know how the story goes. She hasn't left.
I remember Tally as a bit out-of-control back in January, and apparently when she first arrived in Minnesota her distractibility was legendary. But her many months with kind, caring foster families helped her settle down into a very easy dog. From the beginning, she was great in her bin – went in easily, didn't complain once there. She's great in the car. She doesn't bark, doesn't get in the garbage. Really, the only naughty thing she does is chew plastic things (water bottles, food containers, plant pots...with the plants still in them, but we know that, so if she gets one, it's our fault). She's very trainable – what started with "leave it" with treats became "drop" with toys, and she's decided she likes to fetch.
I'm not sure I can explain how ridiculously delightful Tally is. She loves to play, and her capacity for fun is almost matched by her clumsiness. When she wants your attention, she'll grab a toy – a ball of some sort – amble up with it in her mouth, and just bonk right into you, toy-first. BONK. Tug is super fun, and she's surprisingly good at catching high fly balls, but sometimes she'll leap up to catch one and throw herself completely off balance, landing hard on her side (but up the next second, chewing the ball as she toddles up, reluctantly but eventually dropping it for another go). She snorts and sneezes and makes funny noises. Her ears don't match. She sleeps hard and is happiest on the couch next to or on top of someone. She seems particularly content while a beloved person holds a Nylabone for her as she gnaws on it, gazing deeply into her person's eyes, gnaw gnaw gnaw.
Family photo by Lp Reyes
Perhaps my favorite Tally quality right now is her adoration of the neighbor kids. Especially Cora, who's eight. When they visit, Tally won't leave Cora's side. She stares at Cora with unmitigated devotion. If Cora sits down, Tally lays in her lap. We showed Cora how to play fetch with Tally, and it's heart-swelling to watch this little girl with her little girl's voice say, "Tally, drop," and see Tally, so intense, drop the ball, sit down, and look up into Cora's face.
Yep - that's the adoring look. Photo by Lp Reyes
And the cats? We took it super slow, kept the species separate. They didn't even see each other for the first month. Then we moved Tally's crate into the dining room and covered it with a blanket when the cats were around. Then the blanket came off. We increased their exposure to each other over the course of weeks: we'd have Tally out and let the kitties into the room for five minutes. Then ten. Then fifteen. In general, and to my huge surprise, Tally is completely intimidated by them. Her usual reaction is to look away, as though trying to convince herself that if she doesn't see them, they won't see her. There have been two incidents of Poppy-on-Tally violence, both of which began with a great deal of cat menacing behavior (growling, stalking) and ended with Poppy swatting Tally on the butt, even though Tally was exhibiting the most pathetic expression of canine submission you can imagine. (And both of which happened when the human intervenor was on the toilet.) I'm pretty sure Pop didn't even use her claws; she just wants everyone to admit that she's in charge. As I'm writing this, Tally's asleep next to me on the couch, and Poppy's on my other side. Jasper's next to us on the back of the couch. It's better than I'd dared hope.
Even so, Tally's not completely comfortable around them. When one saunters into the room, she'll often lick her lips and look at me. It's that looking-at-me part that melts my heart. She's nervous, and she turns to me. Every time, I tell her, you're okay. I'll protect you. And her history is always in the back of my mind, with the fight ring and then the substandard shelter where so many of the other dogs died, so I feel like I'm making amends for the human race, you know? I mean it when I say to her, I will keep you safe for the rest of your life.
It's official! Photo by Lp Reyes
I still have a hard time believing she was in foster homes for so long – almost 18 months! I don't think she was waiting for us. I don't believe it was meant to be; I just don't think the world works that way. But I do feel very, very lucky that it all happened the way it did, that Jen thought of me and that Amy brought her over and that Cory was here and that I'm finally ready to let go of my fantasy dog and cuddle up with a real one. That's how it goes, right? There's what you want, and there's what you get, and the two don't have to match up for life to be good. Tally is amazing. Loving her makes me a better person. I'm going to keep her safe and happy for the rest of her life. And I'm grateful for ARLP and the work it does bringing dogs like Tally into the lives of people like me.
Amy, Ruth, and a group of ARLP supporters at Tally's adoption party. Photo by Lp Reyes