All winter we counted down the days to June 16th – the date of A Rotta Love Plus' first 2012 Get Your Fix! Fair. And then, suddenly, it was June 16th and ARLP volunteers were at Powderhorn Park in South Minneapolis where we offered free spays/neuters, free vaccinations, and low-cost microchips to area pit bulls and Rottweilers.

It takes a group of ARLP volunteers to make the fairs a success!
Our Get Your Fix! Fairs target neighborhoods with an abundance of needs - where resources and financial means are not often available to spay/neuter and vaccinate pit bulls and Rottweilers. A Rotta Love Plus wants to be where the community needs us the most. We choose public parks that are familiar and easily accessible to residents of the targeted neighborhood. Because we hold the events right in the neighborhood we are able to reach dog owners who are unfamiliar with or cannot access existing spay/neuter services because of location, misconceptions, or lack of familiarity. Get Your Fix! fairs go TO the community in order for ARLP to become a trusted resource to dogs and dog owners in need.
This past spring some people had questions about the fairs. We thought we'd take a minute to share those questions and our answers to them in order to better inform the rescue community about what our Get Your Fix! Fairs do, how they operate, and why they operate in that manner.
1. 'Why do Get Your Fix! Fairs only serve pit bulls and Rottweilers? Why such flat out discrimination? Why won't you spay/neuter labs and poodles too?'
The ultimate goal of the Get Your Fix! program is to reduce pit bull (and Rottweiler) overpopulation and to prevent the euthanasia of pit bulls (and Rottweilers) in local animal controls.
Pit bulls are overpopulated throughout the country and right here in Minneapolis and St. Paul. At any local animal control pit bulls are likely to make up 50% or more of the population of the shelter dogs. And in most cases, only a few of the very many pit bulls who enter an animal control will make it 'out.'
ARLP does NOT discriminate against any breeds, in fact our mission statement says...'advocating for the humane and equal treatment of all dogs without prejudice.' The simple truth of the matter is that this program is targeted to the breed(s) that need the most assistance, the breeds who are most unlikely to make it out of a local animal control alive, should they be unfortunate enough to enter one.
Proof of this can be seen by looking at the euthanasia statistics at any local animal control – the dogs not making it 'out' are the pit bulls, not the labs or the poodles. Labs and poodles and other breeds are not dying daily by the hundreds or thousands in animal controls throughout the country like pit bulls are.
The fairs are not just about altering pit bulls and Rottweilers, but about being a resource for a community in need of help and an advocate for dogs who face long odds of surviving.
2. 'Why are you bringing so much attention to breeds already seen an aggressive by the media and the public?'

Lined up for the vaccination and microchipping fair!
The attention that our fairs may bring to pit bulls and Rottweilers is positive. The fairs create an environment of acceptance where pit bull and Rottweiler owners are able to do right by their dogs and all are able to celebrate the universal love between dog and owner. There is no judging, there is no stigmatizing. At each fair there are simply dogs and their owners receiving services that they might otherwise not receive.
It's not an anomaly to have dogs lined up an hour before the fair starts. Dog owners come early because they want to be sure that their dog is vaccinated and chipped. Dog owners come to the fairs because they love their dogs and they want to do right by them. It really is as simple as that.
3. 'Why are you providing services to dog breeders?'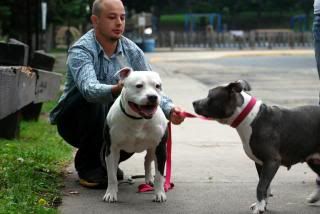 No more puppies for Ellsworth & Gracie Lou.
We're not: We are providing services to dogs in need. Our vaccination and microchipping fairs allow us to interact with a multitude of dog owners, some who have already fixed their dog and some who haven't yet.
At a fair, we create a positive, mutually respectful interaction where our Get Your Fix! ambassadors are able to converse about the needs that the owner and dog may have. Training issues? A referral to ARLP's Rott & Pit Ed is made. Spay/neuter services needed? Referrals are made for upcoming fairs. Other questions? We are there to answer them.
Not everyone is ready to spay/neuter the pet the day of the fair. We understand that. Our fairs are not one time stand-alone events. We go back to the community each year to offer our services. It is this familiarity that allows us to form a trust with dog owners. It is this trust that allows dog owners to converse with us candidly about spay/neuter. And it is this trust that will allow us to spay/neuter the most amount of pit bulls and Rottweilers.
And for those who are interested in spay/neuter, our Get Your Fix! ambassadors collect contact info and phone calls are made the day after the fair to set up appointments with our partner vets.
4. 'Why do you spend money to vaccinate and microchip pit bulls and Rottweilers? Wouldn't the money be better spent on spay/neuter resources only?'
The ultimate goal of the Get Your Fix! program is to reduce pit bull overpopulation and to prevent the euthanasia of pit bulls in local animal controls. Doing this requires providing spay/neuters AND vaccinations AND microchipping.
Spay/neuter efforts prevent needless litters of pit bull puppies from being born. Vaccinations are required by both Minneapolis and St. Paul - without proof of rabies an owner will be cited and could potentially have their dog impounded and if not reclaimed, euthanized. Microchips help to ensure that dogs that wander out of their yard or get off of their leash are able to make it back to their owner instead of being taken to animal control where they run the risk of being euthanized. It's a multi-faceted approach; there is no one simple answer to the pit bull overpopulation/euthanasia problem.

So how'd we do this past Saturday? ARLP volunteers rocked it at our first fair of the summer!
• 23 spay/neuter surgeries performed
• 64 rabies vaccinations administered
• 69 distemper vaccinations administered
• 41 microchips implanted
And we're not done yet! We have a follow up Get Your Fix! spay/neuter event next Saturday back in South Minneapolis. We'll be fixing MANY of the pit bulls and Rottweilers who came to Saturday's fair.
We'll be averaging 50 spay/neuter appointments a month between June and October. We will definitely be 'Altering Our Community, One Pet at a Time.'