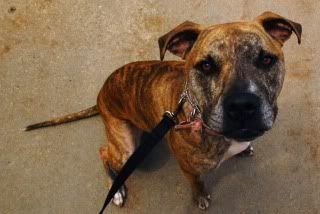 Her name is Emmersyn. Emme for short. The boyfriend often calls her Emmers. And my non-public nickname for her, the name that she would be so embarrassed if she knew I was telling you, that nickname is McMuffin. She is My McMuffin. The My being very possessive. There's a story behind the nickname but because I'm sure that Emmersyn would prefer that we all just forget that I told you her nickname I won't tell you the story. Instead I'll tell you why I am head over heals in love with this dog.
Why do I love this dog?
First and foremost I love her gentle nature, sweet personality and calm presence. Emmersyn makes it impossible for us not to take her with us whenever we can. Trips to Lowe's, softball games, the Farmer's Market and Emme's favorite trip of all – trips to get ice cream, complete with a small scoop of vanilla ice cream for the dog that very quickly becomes a slobbery fool in anticipation.
I love Emmersyn's sweetness. The way she loves people. The way she lights up and radiates when she is around people. Emme is totally in her element when she is out in public, when there are people to meet and attention and love to be had. I love, love, love the way that people love her right back and the wonderful example that her big blockhead and personality are setting for her breed.
Why do I love this dog?
I love her playful nature. Emmersyn is a puppy in an adult body but without all of the work of the puppy – no potty training needed, no puppy energy but still the puppy spirit and goofiness.
This is a dog that will throw toys up in the air to herself. A dog that when taken swimming will slap the water with her big ol' paw and then cock her head to the side in order to catch the water splashes in her mouth…how could you not love that?
Why do I love this dog?
I love the bit of independence that she has, the way that she'll cuddle for a bit and then move on to her own space. A lapdog Emmersyn is not. She wants love and attention but then she's also content with her own space bubble. Her independent spirit is very endearing or maybe it's just that she reminds me of someone I know.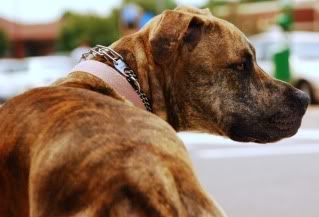 Why do I love this dog?
I love her perpetual happiness. She has the biggest joker grin that she wears all the time for no special reason. To best describe her is to say that she is happy go lucky. She carries no baggage with her and finds joy in all of her life. Emme is a happy girl and who doesn't love a happy girl?
How much do I love this dog?
I love her all the way. That's what we say in our house - love all the way. We love in spite of quirks, in spite of imperfections, we love totally, completely and unconditionally. If you're going to love a dog what's the point of loving any other way? But the truth is that Emme is really not that difficult to love, in fact as I've listed above, she makes it very easy.
Here's the catch though - I love Emmersyn all the way but she's not mine. Well she is mine, she is my foster dog, but she's not technically and officially mine.  Every time that any interest is expressed in Emme it brings tears to my eyes, enough tears to once force me to leave my desk and go sit in my Jeep in the parking lot at work while I collected myself. It's not that I want to keep her, it's that I don't want to let her go. And yes, there really and truly is a difference between the two.
So what will it take to let Emmersyn go? Perfection, or at least as close to perfection as can be found.  What is perfection, what does perfection mean? Check out here to find out.
I love that Emmersyn not only has my arms wrapped around her but that she has the whole of ARLP looking out for her best. That's what I want for a dog who is so easy to love, an angel dog as she once was called, a dog that truly deserves so much more.
And when she does find perfection she'll break my heart in both sadness and happiness as can only be done when one loves a foster dog the way that I love Emmersyn.